Die Fighting is a band that you need to keep and ear on. These guys are up and comers in the Southern California Christian hardcore scene. Having played with the likes of Sleeping Giant, Braveheart, Death Come Fast, The Great Commission, Sovereign Strength, Sleeping Giant, and even No Innocent Victim, you can tell these bands have influenced the sound of Die Fighting. Die Fighting is a band that truly puts their faith in Christ in all of their songs. Be sure to check out the band and keep an eye out for their EP they are recording laying down right now. Thanks Isaac (from Braveheart and Road Worn Saints) for the interview, big props, and God bless!
Band Name: Die Fighting
Music Style: Hardcore/Metal/Bro Party
Location (Home Base): Chino, CA
Myspace: www.myspace.com/dfhardcore
Q: Give us a little history of Die Fighting:
A: Die Fighting started in January of 2007, like most young bands we were just a group of friends that found out each one of us played a different instrument. At the time we started we were still just a bunch of high school kids. We were all just kids who had gotten drum sets and guitars as Christmas presents when we were younger and we had fooled around with it enough to be able to play together. Little known fact, at our first practice ever Brian, our vocalist, and our friend Jonny got a little rowdy and went through a big 10' plate glass window at the Stronghold Venue in Chino. From there we just played anywhere we could get a show and get our music out to anyone who will hear it, and I guess that's pretty much what we are still doing and will always do.
Q: What does everyone in the band do when they are not playing?
A: Work. Naw we do a lot more than that but we are definitely a hardworking band on and off stage. Jordan (guitar) and Brandon (drums) both work at the same grocery store and Brian works two different jobs so the band can afford what it needs. Matt Dos (bass) is one of the original members of GOD FEARING YOUTH and is also in a pop-punk band based outta riverside, and lives in Anaheim, so we keep him driving a hundred miles a week between Orange County and the Inland Empire. Besides that we always hang out with each other. Wer'e all like brothers. Our biggest tradition and band pastime is hittin' the Jacuzzi. There's a community pool next to Jordan's house that we always hop the fence into. I don't know how many times a week we end up there, but let's put it this way, Brandon has the cuzzi tattooed on his calf.
Q: What are some of your musical and lyrical influences?
A: I'd have to say that we have a very broad group of musical influences, ranging from heavy metal from the eighties, to old school hardcore, to all the new wave hardcore stuff that's popular now. We just love heavy music with passion. As a group I'd say that some of our favorites are bands like Madball, Terror, Seventh Star, and stuff like that. Lyrically,…. Everyday life is really the biggest influence. Things that have happened to us or people we know are really the only influences in our lyrics, it just comes out however Brian writes it down. We've never really modeled any of our lyrics or vocal style after another band.
Die Fighting Live – "Jehova Rapha" (God Our Healer)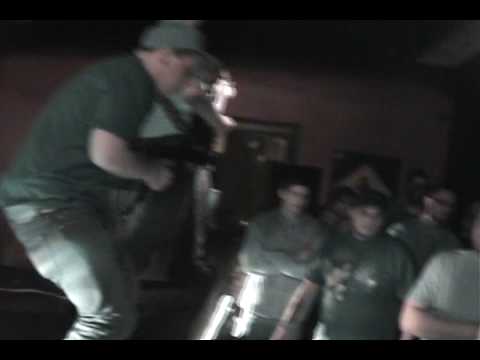 Q: You guys have a very aggressive sound and a very positive outlook. Is it hard sometimes to bring the two together?
A: No its really not that hard for us to do that. I could see how it might be, but we just play what sounds angry and has the heaviest breakdowns, and then sing what were passionate about on top of that. It's definitely in your face kind of music, but it's in your face with a positive message, or if it's a negative message, it will be pointing something out that needs to be fixed, so the negativity is just a means to a positive end.
Q: What part does faith and the Word play in your music?
A: Our faith plays a large part in our music. Its really not that much of a surprise because our faith is just a large part of our everyday lives. We definitely don't value anything above our faith and friendship and that is made very clear in our music.
Q: You guys have been coming up pretty strong in the Southern California scene. What do you attribute this to, beside Braveheart taking your sorry butts on tour? LOL
A: Really its just been a lot of hard work, taking time off work that we can't really afford in order to play shows, taking extra shifts in order to afford the equipment we need. We've paid our dues in the scene and opened plenty of shows. A lot of it is just the dedication and friendship between band members. We would never be able to get anywhere if it wasn't for each of the members personal dedication to the music and the message.
Q: How is the response from non-Christians? And what is your response from Christians?
A: Well we do pretty well with non-Christian audiences just because we are a hardcore band and we aren't uncomfortably "preachy" between songs. However we are up front with everyone about our faith and we wear our hearts on our sleeves so we've had the occasional person walk out during a show if they didn't like what we were about. As far as Christian audiences are concerned, we've always gotten encouragement and support from believers who share our faith and sometimes that is all we need to help us carry on. We've met some amazing people both Christian and non-Christian alike that have ended up totally blessing us.
Q: What are some of the other bands that you guys have played with?
A: Well, too many to remember but we've played with some bands you might know like War Of Ages, xDeathstarx, A Plea For Purging, Impending Doom, Sleeping Giant, The Great Commission, Project 86, xLooking Forwardx, and No Innocent Victim.
Q: What have been some of the most memorable and influential moments as a band?
A: There is definitely the time we literally came within inches of losing our lives driving back from a show in Modesto, CA when we were on the 99 freeway, times we've gotten to pray for people at our shows, and really every time a kid comes up to us and talks to us after a show about what they're going through and what our songs meant to them.
Q: Name some stories about the worse and the best venues you've played:
A: Well there was the time we played a house show in Yuma, AZ. I guess I'd say that was one of the worst "venues" we've played but props to Yuma Jeff for opening his house to us. There were literally holes in the drywall of this little house when we were done with it that night. One of our best venue experiences was actually an outdoor show we recently played in Pahrump, NV. We played on a big outdoor stage and they had a big camping trailer there for the bands to hang out in and they took great care of us. It was fully stocked with all the glass bottle IBC soda you could drink and there was this super nice lady who made us all sandwiches. That show actually went so well and they liked what we had to say so much that we ended up doing an interview for the local tv news station after our set.
Q: At the end of the day, what do you hope your music can help accomplish with the people that are listening?
A: The biggest thing we hope for is to bring some hope to our listeners, even if it's just the encouragement to gather the strength to make it through one more day that's what were all about. We know that beyond all the fun there is a hurting world and a lot of kids dealing with some heavy stuff and that's really who were there for. Christian or not, there are a lot of people dealing with drug addiction, alcohol addiction, pornography addiction, cutting, suicide, depression, and broken hearts. We want them to know that they are not alone, that all of us have at one point or another have been there and struggled with those things and that there is hope. Don't lose heart.
Q: What are future plans for the band? I know you guys are about to go into the studio. Any plans on touring or anything else?
A: Yeah were going into the studio the end of July to record our EP and were really excited. We don't have anything specific in mind but yes we have high hopes and big goals. We will definitely be touring and that's really what we all hope to do full time.
Q: What are your thoughts on the hardcore scene today, especially the Christian scene?
A: I don't even know what to say about that, I have so many mixed feelings about the scene and don't really wanna step on any toes but all in all, we truly love the scene and see it as one of the biggest and most valuable parts of all our lives. There's a lot of hype and trend that goes on but no matter what the hardcore scene, both Christian and non Christian alike, is home to kids who have a lot of heart and aren't afraid to stand up for what they believe. There's no other group that we would rather be a part of.
Q: If you could give the scene as a whole (Christian and non, alike) one message, what would it be?
A: "if there's one thing I've learned, heart means everything". That's a line from our newest song called IRON HEART ARMY. No matter what you are going through, you are not alone, even though in this life sometimes you can feel so isolated and neck deep in crap, Its what's inside that means everything. Nowhere else besides this scene is there such friendship and potential to be a revolutionary force. Be there for you friends, gather the strength to make it through another day, and change what you can in this world for the better while your heart is still beating.
Q: Anything you want to add, or random thoughts, or anything?
A: Be sure to check out the new EP it will drop in August and we'll have the whole thing on our page and for sale at all our shows, and keep an eye out for us on the road, cause we promise, one day we will make it through your town. Please check us out on diefighting.com and shout outs to "Big Wave" Dave Estrin for all his help along the way so far, and all the guys in God Fearing Youth.
Much Love