Recently John (who was in a punk rock mood) reached out to Saint Hooligan of North Carolina.  When he did this interview, they were in talks with Thumper Punk Records and signed with them in the middle of conducting this interview.  So, this is a two parter.  But seriously, good punk is getting harder and harder to find these days, seems like pop punk is still polluting the scene.  But, Saint Hooligan pulls off classic style sloppy DIY handmade hardcore punk.  Like a melting ice cream cone in 99 degree weather!  Can't wait to have these guys play for Apexshows.net!  Check out our pals, and like them on facebook, and buy their album from Thumper Punk!
Band: Saint Hooligan
Music Style: Punk
Home Town: Burlington/Greensboro NC
Facebook Reverbnation
Q: Where and when did Saint Hooligan get its start?  Have any of the band been in other bands?
Marc: Started in the summer of 2009 after the breakup of Travis and my's first band together, Chucksilver. We've all been in bands before.
Travis: For me it was the day we wrote 'Circles.' It was the first punk sounding song we had. Right after that point Chucksliver dissolved and Wham-Bam, Saint Hooligan erupted. I have been in numerous bands over the years. From cover bands to punk/ska to indie rock.
Andrew: I don't know. And no I haven't
Q: How about the Greensboro/Burlington scene.  Good, bad, big, small, good venues?  Do you feel your beliefs affect your acceptance in the scene?
Marc: There's some good venues that are great for punk music. Not very big, but big enough for a circle pit. Hasn't affected our acceptance yet.
Travis: Burlington sucks for music, unless you're into to jam band cover song crap. Greensboro on the other hand has great venues and accepts the punkers. Our beliefs haven't affected us I think because we don't shove it down people's throats…we love them for who they are and where they are at in their lives.
Andrew: Ehhhh it's okay. Could be a lot better
Q: I see in the liner notes that at least two of you qualify as "Punk Rock Dads", how does that workout?  Any challenges?  Any weirdness with schools/their friend's parents?
Travis: Well…I have a 8 year old daughter and twin boys that are 6. It works out pretty well. They love music and punk music the most. Some challenges are them knowing most of the words to Rancid's, "And Out Come The Wolves" album. I've had to go into some of the songs and remove the explicatives or mute the parts when we're in the truck. I'm kinda like the FCC. The oldest of the twin boys has rocked out a full mohawk for about 2 years now and my daughter has a leather jacket with studs, Roger Merit and Rancid patches on it. I do get some looks from the school parents when I show up in a "Swingin' Utters" t-shirt! I've got a lot of weirdness going on and I love to push the salmon-nella envelope.
Marc: I have a 13 month old, so no school wierdness yet. It can be tough getting up early the next day after a gig to wake up to take care of her.
Andrew: C&B
Q: What does everyone do when not being in the band?
Marc: Work and enjoy the family.
Travis: I sell landscaping, collect vinyl records, design flyers for shows, modifying effects pedals and cooking. I also enjoy long walks on the beach and world peace (haha).
Andrew: Constantly trying to get better at the drums
Q: What are the origins of the name?  How about the skull logo, which, incidentally is really cool?
Marc: The origin is from the recesses of my cranial cavity. Just came to me seemingly out of thin air. Liked the oxymoronicness of the name. And Travis came up with the logo.
Travis: I love skulls! I have numerous ones all around the house. A skull to me is intriguing because it is the holding cell for the mushy matter that runs all parts of the body. All emotions and decisions go on inside there. I hope one day to own a real skull. I love telling people the name of our band. It always get a wonky look on people's faces.
Andrew: I have no idea
Travis: Sorry about Andrew, all he wants to do is bang on the drums all day!
Q: Tell me about the music influences of the band members.  Do you have one cd/album that you consider as most influential or one that really opened your eyes to something new? (For me, I can still remember when I first heard the opening part of Slip It In by Black Flag, totally blew me away).
Marc: My influences are: Creedence Clearwater Revival, AC/DC, Dropkick Murphys, Rancid, early Led Zeppelin. The opening riff for Creedence Clearwater Revival's "Up Around The Bend" gets me every time. I love raw, wide open, raunchy-riffed rock n roll without a bunch of fluff.
Travis: Operation Ivy, Rancid, Have Nots, Minor Threat, Stevie Ray Vaughn, Wes Montgomery, Joe Strummer, Jack White and The Kinks. I am a punk and blues sponge. My Dad listened to a lot of 'Oldies' when I was growing up. I still remember the first time hearing "You Really Got Me" by the Kinks. It blew my mind the sound those kats had. I still to this day love the guitar solo on that song, dirty and simple. The most influential album would be "And Out Come The Wolves" by Rancid. (For the all the real punkers, check out Plastic Bertrand's – "Ca Plane Pour Moi", it's punk at a different light)
Andrew: My favorite bands are Angels and Airwaves, and Blink-182. CD wise it would be I-Empire by Angels
Q: Describe the song writing process for Maniac Punk.  Was it music first, lyrics first, who did what, how did the songs come together?  Any good stories behind some of the songs?
Marc: Both. Some were music first, others lyrics first. Travis and I flow very easily together creative wise. Either Travis would get a riff in his head, we'd flesh it out, and I would write the lyrics. Or I would have lyrics written, come to Travis with a sense of the direction musically that I feel the song should go. Or he'd have a riff, and lyrics I wrote three weeks earlier fit the feel of the riff. We write very quickly. Usually one, sometimes two, practices to write a new song. When the juices are flowing, we ride the creativity till it dries up. Maniac Punk (the song) is based off of Travis's own maniac punk experience.
Travis: Story behind the song "Maniac Punk" – I was at a Have Nots/Flatfoot 56/Street Dogs show in Charlotte. I have always been one in the circle pit first so I was that night. Long story short, I came out of the pit with scuffed up checkerboard shoes and a bleeding busted lip!
Andrew: Most of the songs were already written when I got here, so~
Q: What would be your favorite song on Maniac Punk (and why, of course…).  How about the rest of the guys?  What song is your favorite to play live and which one do the crowds seem to connect with best?
Marc: "Spoil the Cynics" is my favorite off the cd. Just dig that opening riff. Live? Either Battle Hymn or Maniac Punk. Love cranking up the speed on the chorus of Battle Hymn and enjoy the craziness of Maniac Punk. The crowd gets into that one.
Travis: "Deserts and Wastelands" is a special song to me from the album because I think it describes the brotherhood, love and crap Marc and I have been through together pushing Saint Hooligan forward. For Live – the pit usually gets going on "Maniac Punk."
Andrew: "Battle Hymn" because the whole dynamic going from the verse to the chorus is just awesome
Q: Why did you decide to submit Spoil the Cynics to the Punk Never Dies comp.?  Have you seen any interest from that?
Marc: It was the first one done for our album, but also it's got our signature sound. It's kinda our standard by which we measure our other songs we write.
Travis: Definitely have gotten some interest. I'm not to sure if Brandon from Indie Vision was to keen on us at first. A lot of our lyrics don't scream Jesus but are positive and about life. Brandon is a really cool guy and is doing great things with Indie Vision. I'm not drinkin 'hateraid' but I have a different idea of punk music. I would have to say we are one of the few really punk bands on that comp. But like Tim from Rancid says, "who am I to say who's punk?'
Andrew: Yeah…we've gotten a record deal out of it
Q: Have you toured before and if so how does that balance with families?  Any touring plans coming up?  Want to go to any festivals? (Love to see you at Cornerstone!).
Andrew: No because 2/3rds of the band are too weeny to do it. No big deal though.
Marc: Have not toured yet. Would love to do some mini-touring on weekends, so in the process of getting shows set up.
Travis: I'm sure it would pull a little on my lovely wife and kids but they are behind me in my musical journeys. I'd love to do a Cornerstone Fest but I'm not sure if they are privy to the straight forward raw punk style. I guess if I was 18, grew my hair out in front of my face and we could write some Emo songs we might get an invite?
Saint Hooligan – "Spoil The Cynics"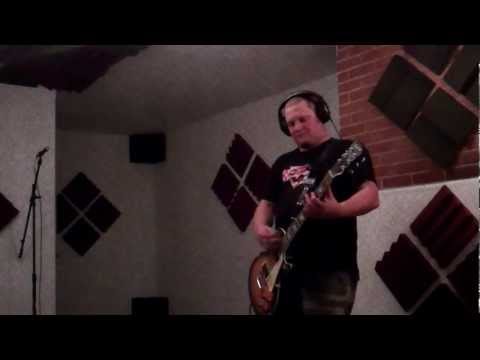 Q: If you could assemble a tour package, who would be on it with Saint Hooligan?  Any bands you play with often right now?
Marc: Would love to play with Flatfoot 56, Dropkick Murphys, and The Rabble. The Nondenoms (local punk band) we have played with twice.
Travis: I love to be on tour with Rancid, Have Nots, The Nondenoms. That would cover veterans and newbies to the punk world. Hey bands, you can learn a lot from the dudes that have gone before us!
Andrew: The Nondenoms for sure
Q: Guest vocals seem to be a pretty big trend right now, who would you want to be guest on your next cd?  Whose cd would you want to be on?
Marc: I would want Matt Freeman from Rancid or Ken Casey from Dropkick to sing with me. It'd be cool to sing on Dropkick's cd.
Travis: I would have to say Tim Armstrong (Rancid) and Matt Pruitt (Have Nots).  I would love to be on a CD with the Have Nots or The Hoax. A deep dark secret of mine is to sing a duet with Joan Jett
Andrew: C&B
Q: What do you see as the purpose for the band?
Marc: To go to the dark places and change the atmosphere by who we are and Who we carry in us. We are the same on and off the stage. We were called to the sick, not the well. We also want to build relationships with other bands and sow into them.
Travis: Yes, other bands are very important to me and the friendships with them.  I think as a band we have been sent in to destroy religious bullcrap that oozes from the pulpit and media. I'm not hopping on a soapbox here but you can check out Mark 7. I'll have some bread.
Andrew: To reach as many people as possible.
Q: Where in the Bible do you draw inspiration from as a band?  Any favorite verses/stories that really hit home?
Marc: I draw inspiration from the honest rawness of David in the Psalms. Matthew 9:11, 12 is a verse we have discussed extensively as a band. Any of the stories of Jesus or the apostles reaching out to the dirty of the world hit home.
Travis: This may be a shock and my answer may get pulled on this but I don't draw inspiration from the Bible per se. Now before all you Tim Tebow fans start chunking rocks at me listen first. To me it's a daily relationship with my Papa that I draw inspiration from. God's happy and He's in a good mood! The constant conversation I have with Him drives me personally and musically. But if you have to have a scripture to make it official it would be Hebrews 12:29. (And yes, I do read my Bible)
Andrew: Romans 12:2
Q: Any bands that you're currently listening to that we should know about?
Marc: The Rabble and the Street Dogs.
Travis: Have Nots, The Hoax, Big City Bombers and The JB Conspiracy (if you like ska)
Andrew: Nondenoms
Q: Tell us about the acoustic shows at coffee houses.  How are you received there?  Do you do those with mohawks up/same attire as playing a punk show?
Marc: We have been well-received at the coffee houses we played at. People like the acoustic versions. We go in whatever we feel like wearing that day.
Q: Tell us some crazy story about the band or a something that happened at a show?
Marc: Two years ago, since we were drummer-less at the time, Travis and I spent three months playing to a drum machine in his basement. I also hadn't learned bass yet, so it was just Travis with his guitar, my singing, and the incessant drumloop. If you can live through that, your band can survive anything.
Andrew: Travis rubbed my leg
Travis: One of my favorite's is being on the 11:00pm spot but not playing until 1:30am. People are torn up drunk by then so it makes for a very fun time. And about the leg thing…it was an accident!
So, some people may stumble upon a clip of us in the studio with a pentagram on the drums and I figure I better explain that before anyone jumps to conclusions.  We recorded this album at Jerk Music Productions in Burlington NC that my friend Cody owns. At the time our drummer didn't really have a great set of drums that he wanted to record with so (site unseen) we used a studio set Jerk had. It just so happened to have a pentagram on the front of the head. I first did a double take when I saw it and my 'Christian-ese' slipped up on me. I thought, God, how is Andrew gonna play on these? Then I was prompted inside myself that this was nothing more than a symbol, just like a 'fish' on the back of a car, and it wasn't any stronghold or demonized drum set. Andrew recorded and the cd was released and has been a success for us. The video was filmed just for studio footage to use later but Cody made it into a video and put it up on his YouTube site. There will be an official Spoil The Cynics video up on our site in a couple of months.
Q: What is one of your favorite cd's that you're embarrassed to admit you own (any/all band members)?
Marc: I have Monster Ballads. It's a collection of  '80s big-hair, arena-rock love songs.
Travis: Lionel Richie's Greatest Hits…I love me some Lionel!!
Andrew: I am very proud of all the music that I own
Q: Any shout-outs you'd like to make?
Marc: Thank God for Pop-Tarts. Without them I wouldn't have survived college.
Travis: SKA music – it still lives! My wifey and kids, sushi and PB&J. Dave from TPR..thanks for taking this behemoth on! Blahhhhh!
Andrew: Mom and Dad! And my C&B
UPDATE:  So in the process of us interviewing Saint Hooligan – unknown to us, they were signed by Thumper Punk Records.  The following questions are in regards to their signing with Thumper Punk Records.
Q: So, about the signing to Thumper Punk, how did this all come about, especially since Saint Hooligan is so geographically distant from the rest of the Thumper Punk family?  Any plans to get out to the West Coast and have label mates journey to the East?
Travis: Well I'd have to say it all comes down to us being featured on the "Punk Never Dies" comp. That's the first place I think Dave ever heard us. He just sent a simple email saying " Love your sound, keep it up." From there I shot Dave (I shot Dave??) an email to see if there was any interest in us. Something happened and it never got to him or something. Couple months later, I found The Hoax online and was listening to them and saw they were signed to TPR. I sent another email to Dave and the rest is history. No plans yet…but it will happen.
Q: How does it feel to be described as a "behemoth" in the press release?  Any story behind that or is just good press?
Travis: The "behemoth." Hahahaha! I love us being referred to as a behemoth. I believe that comes from the sound that is projected from a 3 piece punk band. The way we write, play and record is simple but produces a big sound. But I will say that we have good press too! (wink,wink)
Q: I've seen on your Fb page talk of more tunes, any recording plans coming up?  How about the sound, still straight-ahead punk or are you cashing in and aiming for clean vocals and multiple breakdowns? (ha).
Travis: Yes we have plans of getting in the studio soon. You know how pushy TPD (Thumper Punk Dave) is so he's making us record more. I'm just kidding, he's not like that at all. We have written more songs since our album release and we are ready to record so look out for a 're-release' of the album with more songs. As for the sound it will still be Behemoth Hooligan punk sound with Marc's clean-ish vocals and my gruffy ones. No multiple breakdowns because we're not really good at "picking up change" or "windmills" and it's hard to run in a circle pit with those but the new tunes will be a little more aggressive!
Q: Any thoughts about becoming a 4-piece?  Do you feel limited at all by being a 3-piece outfit?
Travis: Marc and I have kicked around the idea before but we seem to fit as a 3 piece. Plus it's a lot easier to agree on and record with 3 folks than 4. Some of the limitations might be for Marc as he loves to be on the mic and be able to move around. But he's a beast on the bass and does very well with our sound. It sometimes hinders me in writing solos because of one guitar but we not a hair band with 7 minutes solos so I'll stick to my simple 4 bars.