Anyone old enough to remember The Culprits?  If you don't then go hunt down their albums "FifteenThirteen" and "Nora."  I promise that you will not be disappointed.  If you love Office Negative, The Havoc, and similar bands, then you need to add this to your library of Christian punk.  Brian reached out to me recently and told me that The Culprits might be getting back to together to do some shows, if you are lucky enough to be in the Mid-Atlantic states, maybe you can catch one of their reunion shows!  Anyway, check out what Brian had to say about The Culprits, all the bands they shared the stage with, Cornerstone's past, and the scene in general.
Q: So The Culprits played their last show around 2004-2005, when did the band get its start?
A: We started working on the songs for the Culprits in early 2000, at that point we were in a 3 piece ska-punk band called Slushball Derkins that was winding down. I'll never forget the night we decided ska just wasnt working for us anymore, it was January 3rd, 2000. We were playing a show at Carpenter's Home Church in Lakeland Florida with saGoh 24/7(Anberlin) and Cool Hand Luke. SD had played Lakeland tons of times over the course of 3 years and always had a good response, but that night we opened the show and everyone looked at us like we were aliens or something. No noise in between songs just dead silence, crossed arms, and icy stares. Granted we were a little out of our element at that show but after our set we knew we had to change or we wouldn't be long for the scene. So the very next day we sat down and evaluated where we were going what we were doing and how we could do it better. We all still loved ska but figured if we can't go full fledged horns and everything we would focus more on the punk side. So we talked about favorite bands favorite songs and kind of came to a consensus on what we wanted to play. It turned out we all had good memories of albums like Let's Go, Out Come The Wolves, Maniacal Laughter, and Dookie. We saw that the Christian scene at least in Florida was lacking any kind of good punk rock with a positive message so we set out to change that. As I'm going back through old cds I'm finding out a lot happened in a short amount of time in 2000. The first set of songs that would later become the foundation for The Culprits first album were released on a 4-song demo by SD called Cry Freedom in April 2000 and by the end of that Summer/early Fall we had made the transition to The Culprits and were recording FifteenThirteen our first album.
Q: What is the significance of the name The Culprits?
A: I'd love to tell you there's some deep meaning behind it like because of our sins we are all culprits in the death of Jesus, but it's just a name I came up with late one night after seeing the word somewhere, checking to make sure no one else had it as an AOL user name, pitching it to the band and everyone thinking it was a good name.
Q: So we know that The Culprits have members that were in Since Remembered, and a more current project Wolves&Wolves&Wolves&Wolves, can you give us a timeline of how all these bands are related and the order of their existence. Also what other bands have members (or ex-members) been in?
A: The running thread between all these bands and many more is mostly me (Brian) but my brother Kyle has been in all the same bands whether voluntarily or reluctantly. It all started with a band called The Swifties (Kent, Brian, Kyle, Tylere, Joel) in 97-98 which after the lead singer quit became Slushball Derkins (Brian, Kyle, Tylere, Joel & later Danny) 98-2000 which after a couple member changes and a bad show became The Culprits (Brian, Kyle, Sean, Danny – later Brian, Kyle, Ben) 2000-04ish. The Culprits never had a proper last show partly because me and Kyle (bass and vocals) ended up moving to North Carolina Ben (drums) stayed in Florida so it just fizzled out. About a year after that The Culprits first drummer Danny contacted me about starting back up a high school band we had been in together called XNeverAgainX but this time we would call it Since Remembered (Danny, Brian, Mike, Kyle) 2006-07. We sent demos and lyrics back and forth via email and whatever and put together a solid demo which got us signed to Blood and Ink (where the Culprits released a cd). That fell apart in less than a year for reasons I won't go into which I'm kind of sad about because I thought we had some good days ahead of us. From 07-08 I tried to get a new band going 4 different ways, the same band but different lineups and it never gelled. Finally in 2009 I gave that up and worked on something brand new and that ended up becoming Wolves&Wolves….. which is still going strong and about to release our first cd. I'll never remember all the bands everyone before or after The Culprits has been in but a small list would go like – Fit For Rivals, The Making Of, The Essex, Black Hand, blkmsk, Catch Phrase, and a ton more
Q: So what is everyone in The Culprits up to these days?
A: From the original line-up – I'm living in Winston Salem working on Wolves, Kyle is also in Winston playing drums in Wolves and working full time at his t-shirt printing business Machine Gun Graphics, Sean is living in Florida and celebrating the birth of his first daughter, Danny is in Tennessee working as a tattoo artist, our last drummer Ben is living in California somewhere near the corner of Hollywood & Vine playing music and cutting hair.
Q: So The Culprits put out a few albums, I know of "Nora", but there is also an album called "FifteenThirteen" that you mentioned. How would people even get their hands on either of these recordings today? When I listen to "FifteenThirteen" it has a bit more punky feel to it than "Nora" which is a bit cleaner and more produced. Are these the only albums you guys put out or are there other recordings? (any plans on releasing Slushball Derkins? LOL)?
A: We had a small handful of releases, first a 5 song demo in 2000 limited to about 50 or so, only 2 full length albums 1513 was first, self released in late 2000, then by a label in 2001.  Nora was released in 2003 by Blood & Ink Records who I would later work with on Since Remembered's album. We did a self released 7″ titled "The Sinking Spell" in 2004 that debuted at Cornerstone which ended up being one of our last shows. It's unfortunate the 7″ never got heard by many people because we were producing some amazing stuff at that point that could have had a pretty big impact. We were on a few compilations, one a central Florida sampler which we were the only punk band on, one was Boot To Head Records Sampler 2 which was huge for me because I ate up everything Caleb put out and wanted to be on BTH so bad, and we had an exclusive song on Tooth & Nail's I'm Your Biggest Fan Volume 2 which was another big deal because volume 1 was my high school soundtrack. We also did another 5 song demo "Ashes to Ashes Dust to Dust" that had a couple songs from each album and a rerecorded version the song we did for Tooth & Nail that was limited to 50 copies and we sold on our 2002 Fall tour. 1513 was pretty raw but in a good way, we were 4 kids writing music together and having fun it was good times, but a lot happened between the 2 albums, I got married, our guitarist quit (but would later rejoin as our drummer in 2002 only to quit again), our drummer was engaged and quit the band, and the whole thing almost ended. I had moved away from home with my wife and was pretty much on my own writing at that point so I was coming up with different sounding music that had us morphing from a Rancid style street punk band into a Nerve Agents/AFI horror hardcore punk band. A LOT of people would come up to us after Nora and ask why did we change our style, and I'd understand why they felt that way but we never stopped playing the songs from 1513 or acted any different onstage so I would just tell them were writing new stuff and it's gonna be different because we won't write the same songs over. We were a progressive minded band if we weren't moving forward stylistically I felt like I was just treading the same water over and over again. You can get Nora probably until the end of time at bloodandinkrecords.com, I still have tons of copies of 1513 and the 7″ that I can get to people who want it. Me and my brother keep talking about going back and re-recording some of the old stuff and putting it up for free download or whatever but I don't know if we should go all George Lucas on the old songs, and there's been an ongoing discussion between me my brother and our last drummer to get together and write some new material but who knows if it'll ever produce anything. As for the SD stuff I've been working on remixing remastering and in some cases restoring the entire catalogue but it'll only be given to members of the band and close friends who were around at the time.
The Culprits "Johnny Bombs Away"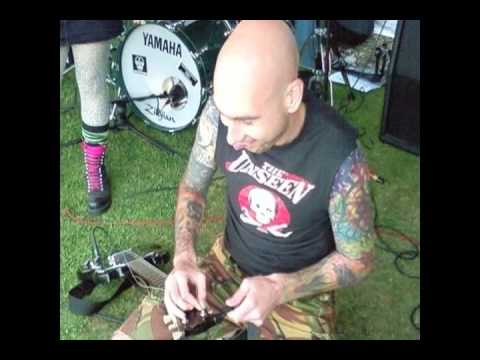 Q: The Culprits have been around for a while, and I bet that you guys have shared the stage with a lot of bands that are considered "legends" of the Christian hardcore/punk scene (along with you guys), who were some the bands you guys shared the stage with over the years that were your favorites? Who might we never have thought you might have shared the stage with?
A: We played shows with just about anyone you can think of, Underoath, Anberlin, Showbread, Headnoise, Officer Negative, The Deal, One21, The Havoc, The Last Hope, OCD, FBS, Flatfoot 56, The Decoded, Seventh Star, Sleeping By The Riverside (Adam Warshowsky sang on 1513 and is still a good friend to this day), Gunwale Under, and any Facedown band that came through Florida we ended up playing with. We actually ended up hopping a small swing of dates with Officer Negative in Florida, we played a show with them in our hometown one night in 2001 and we bonded pretty quickly and ended up playing all the rest of their shows in Florida, they asked us the next year to tour with them from Cornerstone to California and it was the most fun I've ever had. They were by far my favorite because they were just fun to be around and awesome people. I got a lot of good marital advice from Chad that I'll never forget and will be eternally grateful for. We also played with a bunch of secular bands in Florida just because we ended up getting a good following in central Florida from non-Christians because we were never preachy, we got the opportunity to open for The Unseen, The Virus, Endless Struggle, and more.
Q: What was the purpose of The Culprits?
A: It was to show Christ's love, not preach it or just speak it but to SHOW it. We ended up getting a good reputation around central Florida for being the Christian band everyone could like. We tried to never judge anyone because of what they believed or didn't believe, and we tried not to preach from the stage. I dont feel I was ever called to be a preacher, I'm a musician, so I would go onstage to play music. That didn't go over too well with some of the established bands and people in the scene but I never felt led to turn a mosh pit into an altar call. Now I'm not saying that other bands should have done the same as us because it's not my place to say and I dont know what they were called to do but for me it was always about the one-on-one conversations. That's where I felt led to be, talking and showing Christ's love on a personal level. If I could talk to one kid after a show and make a positive mark on their life then I did my job. Most of the time when I would talk to people after the show I would end up just listening, not because I didn't have anything to say but because most of the kids I met never had anyone who would just let them speak. They were so beat down by people shoving things down their throats they were happy someone was just there paying attention to what they had to say and I would never cut them off even if I didnt agree with what they were saying, I'd let them know where I stood and why, but I did my best to never condemn someone because they wouldn't immediately sway to my point of view. I've had many conversations with people where neither I nor they changed their point of view on an issue but we both walked away respecting each other for being able to talk and disagree CIVILLY. I knew I would never be able to change everyone I spoke with's mind but if I showed them the love and respect we were commanded to show them, God could take that and make a difference.
Q: So, rumor is that The Culprits might be doing some reunion shows, is that true? Where might we see you guys playing?
A: A reunion has been in discussion for a couple years now but something always came up to prevent it from happening, never anything major we just never got the timing right. We'd love to do something around Halloween like a Fall tour, maybe a week or a couple weekends back to back. The fall was when we started getting things together in the beginning and our imagery fit perfectly with the season so I think it'd be the most fun. We always did a big Halloween show every year. I've sketched out some tour plans and there's always places we would love to get back to but it always ends up that Florida, North Carolina and Virginia were the places we were most attatched to. Tampa, Orlando, Melbourne/Cocoa Beach, Savannah Ga, Raleigh area NC, Richmond and Roanoke VA are our targets for a tour. If it only came down to being able to do one show it'd probably be Orlando or Tampa.
Q: Are you guys going to be putting out some new material?
A: Ive got a treasure trove of never before heard material from the old days and some newer songs that would fit where we were headed around the time of the 7″ so I wouldnt rule it out, it's just a matter of focusing our efforts to do it. With Wolves&Wolves…. getting ready for a tour later this year and everyone being so far apart it's more likely we would just get together for the shows and to play the old songs again.
Q: What do you guys think about Cornerstone calling it quits? (in case you didn't hear, this is the LAST Cornerstone Festival)
A: I think it's unfortunate, one of our biggest goals as a band was to be able to play C-stone and we achieved it pretty quickly. We played the Underground Stage, Steel Roots Stage, and a handful of generator stages in 2002 and had a great time. Sadly that was the last time we were asked by the fest to officially play. We ended up playing 03 and 04 thanks to Blood and Ink Records getting us spots on smaller stages. I know a lot of behind the scenes info about C-stone and it doesn't shock me this is the last year, I'm honestly a little surprised it didn't happen sooner but I had a lot of fun and made a lot of great memories and friends that I'll never forget over the 4 trips (3 Culprits, 1 Since Remembered) I made to that corn field. I hate to think that kids won't have that in the future, but time brings change. and I really hate I'll miss the Squad 5-0 reunion.
Q: What are some of the fondest memories as a band? What shows or interactions have had special meaning for the Culprits?
A: The entire Officer Negative/Culprits tour in 2002 was a blast start to finish. Chad, Casey, and the guys will always be some of my favorite people and musicians of all time. I dont think there was a moment on that tour I wasn't having fun or didn't have a smile on my face. One time in particular that sticks out, after Cornerstone that year was over we were meeting up with ON to start West at a hotel in Macomb which just happened to be where most of Tooth & Nail and Facedown Records were staying. Chad had organized a heading separate ways prayer with ON, The Deal, One-21 and another band I can't remember, but asked us to join. We had played with The Deal a couple times in Florida and I think One-21 was confused as to who we were but being able to share that moment with 3 bands we looked up to was awesome. One other thing that jumps to mind was that same year at Cornerstone we were setting up our merch booth the first day and realized we were right next to Poor Old Lu, a band I have always loved. We get our stuff straight and are sitting around talking and next thing I know Jesse sprinkle is walking to the table with a box of stuff and all I can do is sit and stare. I know it freaked him out, I had my mohawk cut off shirt bondage pants and combat boots and I'm just staring at him. Over the course of the day we both caught each other staring, me out of admiration, and him I'm sure out of concern. I never worked up the nerve to start a conversation so I feel like I missed an opportunity to let him know he influenced a street punk band.
Q: When might we see The Culprits officially get together and announce these mini tours you reference above?
A: Sooner rather than later I'm hoping, it's all depending on work schedules, tours already in place for our current bands and a few other factors. We've pretty much got the lineup set and the songs we wanna play picked out, it's just a matter of everything coming into perfect alignment.
Q: What message do you want to send the hardcore punk scene as a whole?
A: Don't limit yourself. Don't just listen to one style of music. It's ok to listen to things others don't approve of. Be open minded and you'll be surprised what you find.
Q: Feel free to give any shout-outs, share links to bands & ministries, etc. Thanks for the interview and look forward to hanging with you guys in Raleigh!
A: To be honest we've been out of the Christian scene so long we have very few contacts anymore. Off the top of my head Blood & Ink Records carries our old CDs and are always putting out amazing stuff, great guys great bands; theres a praise and worship band called Ascend The Hill, we go way back with Joel the singer solid dude; I play hockey and hang out with Dusty from The Almost so check them out; and of course wolves&wolves&wolves&wolves not a Christian band but that's what me and Kyle are doing now.